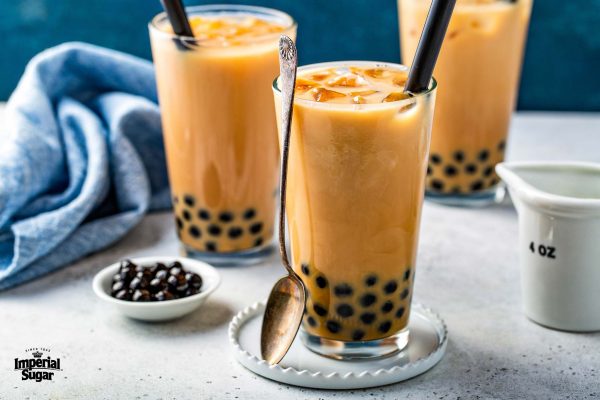 INGREDIENTS
3 teaspoons of loose-leaf black tea or 8 bags of black tea
boiling water in 4 glasses
Quick-cooking tapioca pearls, 3/4 cup
You may serve whole milk or another type of milk.
Offer simple syrup or another sweetener of your choosing.
Regarding Simple Syrup
½ cups of water
50 g of sugar
DIRECTIONS
Making the tea: Tea bags or leaves should be steeped in 4 cups of newly boiling water. Allow the tea to cool completely in the water.

If used, make the simple syrup as follows: Stir quickly after adding the water and sugar to the saucepan. Until the water boils and the sugar completely dissolves, heat the water on medium-high. Before pouring the simple syrup into a jar, turn off the heat source and allow the saucepan to cool.

The tapioca pearls should be cooked by adding them to around 4 cups of boiling water. Wait for the pearls to rise to the top after stirring the mixture. Cook them for a further 5 minutes after that. To determine if a pearl has attained the proper amount of softness, test it. If the pearls are still stiff, cook them for a few more minutes. To remove the pearls from the heated water, use a slotted spoon. Rinse the pearls with water quickly. Place the pearls in a basin and combine with a small amount of simple syrup.

Put the beverages together: In a pitcher, strain the tea. The cooked tapioca pearls should be divided among 4 big glasses. To each glass, add a few ice cubes next. Each glass should contain one cup of tea. Each glass should contain 1 1/2 tablespoons of milk and 1 1/2 tablespoons of simple syrup. Stir the milk tea and take a sip. To suit your tastes, ad more milk or simple syrup.

Have a small pitcher of milk and the jar of simple syrup on hand if you're giving the drink to guests so they may customize their beverages to their preferences. Large boba straws are typically used to serve the beverage (large enough for the tapioca pearls to go through). To remove the tapioca pearls if you don't have any straws on hand, use a spoon.