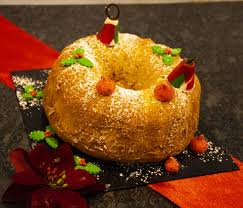 INGREDIENTS
Sugar Syrup
300g white caster sugar
250 ml water
Fruit Mix
120g Sultana
40g of candied peel
½ teaspoon allspice powder
½ teaspoon nutmeg powder
2 teaspoons of rosewater
3 teaspoons of sugar syrup
Soft Roll Dough
250g all purpose flour
2 teaspoons of white castor sugar
2 teaspoons if yeast
½ teaspoon salt
1 egg
250 g fresh milk
Breudher batter
625g soft roll dough
6 egg yolk
104 g butter
208 g brown sugar
7g baking soda
40g fresh milk
83g golden syrup
180 g fruit mix made above
DIRECTIONS
By combining sugar and water, make a sugar syrup, and cook it over a low to medium flame until it is reduced and has the consistency of syrup. Remove it from the flames and allow it to cool. Create the mixture at least one day in advance.
Please take note that this recipe will yield a large quantity of sugar syrup. I normally make it and store it in a bottle so that I can use it in cocktails.
If you don't have enough time, 3–4 days will do. Combine all the ingredients listed in the fruit mix in a small bowl. Cover with cling film and keep in a cool, dry area for at least one week (7 days).
If you have a bread mixer, use it; if not, create the bread dough by hand. Mix thoroughly and set aside for 10 minutes until it froths before adding the yeast, sugar, and half of the warm milk to the mixing bowl. If the milk is too hot, the yeast will be killed, which will prevent the bread from rising.
When the yeast begins to foam, add the remaining milk and the remaining ingredients from the bread dough recipe to the mixing bowl. Stir thoroughly with the dough hook attachment on medium speed for about 5 to 6 minutes, or until a dough is formed. When it becomes too sticky, a small amount of flour ( All flour types are different and absorb moisture differently, you might end up using a bit more flour than specified in the recipe)
If using hands, knead the dough for about 10 minutes on a level surface until it forms into a dough.
Until it has doubled in size, keep it inside a bowl covered with a damp cloth in a warm location.
Please review the information about when to let the dough rise above. Butter and brown sugar should be combined thoroughly in a mixing dish with a whisk attachment until smooth. Then gradually include egg yolks until creamy.
The bread dough that has doubled in size is next added, a little at a time, until everything is thoroughly combined.
Mix the milk, golden syrup, and baking soda with a spoon in a small bowl. Add the mixture to the batter.
Finally, stir in the fruits that have been soaked. If you have an oil spray, use it to cover the mold completely. If not, use a brush to add canola oil within the mold ( This is so that the breudher unmould easily) Pour the mixture into a bunt mold, filling it up to 3/4 of the way because the cake will rise as it cooks. Cover with a moist cloth and place it somewhere warm to rise. (Roughly 30–40 minutes)
Heat the oven to 175°C (conventional oven)
Bake it in the oven for 30 to 40 minutes once it has doubled in size. Cover the top with foil and continue baking if it turns too brown.
Once it has cooled, remove the cake from the mold, let it rest inside the oven, then serve it on a platter.