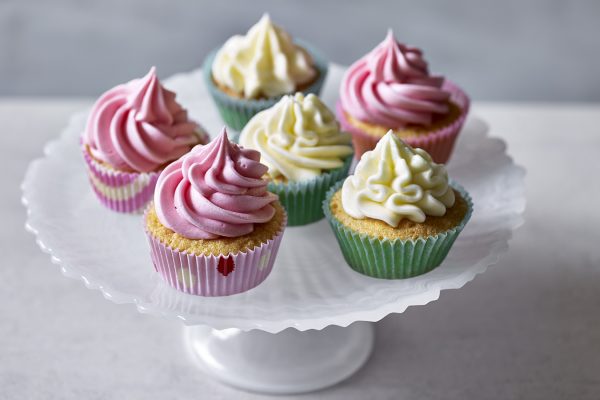 INGREDIENTS
110 g of Golden Caster Sugar
110g of softened butter
2 large eggs
½ teaspoon vanilla extract
110g of self-raising flour
(Butter Cream)
1 teaspoon vanilla extract
300g of icing sugar
150 g of butter
3 tablespoons of milk
DIRECTIONS
Line a 12-cupcake pan with cases and preheat the oven to 180°C/160°F.
Beat 110g of softened butter and 110g of golden caster sugar with an electric mixer until they are light and fluffy. Add 2 large eggs one at a time, beating well after each addition and scraping down the bowl's edges.
To make the cupcake liners, combine the 12 tsp vanilla extract, 110g self-raising flour, and a pinch of salt in a bowl.
Bake the cakes for 15 minutes, or until they are golden brown and spring back when tested in the center with a skewer. Leave on a wire rack to totally cool.
To prepare the buttercream, combine 300g of icing sugar, 1 teaspoon of vanilla essence, and a pinch of salt with 150g of super-softened butter in a mixing bowl.
Add 3 tablespoons milk after whisking until smooth (start out gently to prevent an icing sugar cloud).
Add the food coloring at this time if you wish to color. Pipe onto the cooled cupcakes.