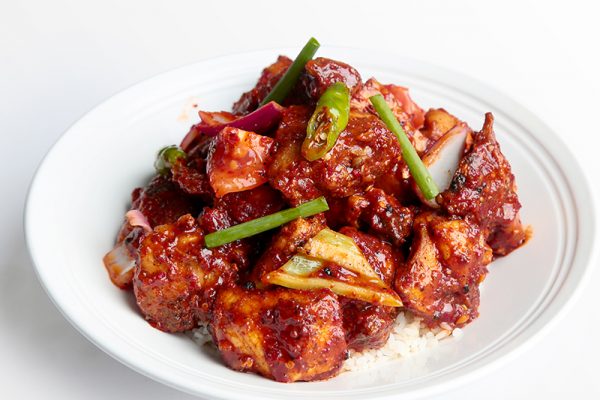 INGREDIENTS
(To marinate)
500g of Crysbro Chicken cut into pieces
½ teaspoon of black pepper powder
1 ½ teaspoon of chili powder
1/8 teaspoon turmeric powder
2 teaspoons lime juice
¾ teaspoons salt
1 teaspoon oil
(other ingredients)
1 piece of ginger finely chopped
3 garlic cloves
1 teaspoon of chili paste
3 garlic clove finely chopped
1 ½ teaspoon chili flakes
¼ cup ketchup/chili sauce
½ teaspoon sugar
Salt to taste
¼ cup water
2 banana peppers chopped diagonally
1 teaspoon of corn starch dissolved in 2 tablespoons of water
½ red onion cut into large pieces
DIRECTIONS
Combine chicken with all the ingredients from the aforementioned marinade list. Set it aside for up to two hours or for 30 minutes (or up to 12 hours in the fridge)
The chicken pieces should now be air-fried till golden for 14 minutes at 390F. Depending on your air fryer and the size of your chicken pieces, you can require more or less time. To ensure equal browning, do not crowd the air fryer pan when adding the food.
The wok or pan is now hot. Heat the oil after adding it. Add your finely diced pieces of ginger and garlic to the heated oil.
Add Chili paste and Chili flakes and mix everything together. Then add the ketchup and mix further
Then stir in 1/4 cup of water and allow it to simmer. (If you want extra gravy, add more.)
You add sugar once the sauce is simmering. Taste, and if necessary, adjust salt. Then stir in your chunks of fried chicken.
Add the peppers and onions and mix together
Add the slurry of cornstarch. This will give the sauce and chicken pieces a great shiny appearance. Additionally, this will thicken any gravy you may have. At the very end, you can also add a lot of tomato chunks if you prefer.