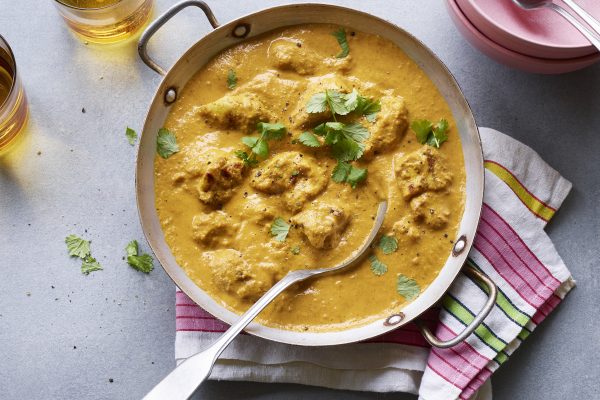 INGREDIENTS
1 Pound of Skinkless Crysbro Chicken drumsticks
1 ½ cup thinly sliced onion
¾ cup plain yoghurt
2 tablespoons of ginger or garlic paste
1 sliced tomato
¼ cup cashews (soaked in water for 2 hours)
Salt to taste
1 cup of fresh milk
½ teaspoon sugar
½ cup oil
4 cloves
4 cardamon
2 bay leaves
½ teaspoon cumin seeds
1 piece of cinnamon
1 tablespoon coriander powder
1 tablespoon chillie powder
½ teaspoon turmeric
½ teaspoon garam masala
DIRECTIONS
In a pan, heat the oil. Add the onions and cook until it turns golden brown. Remove the onions and place them on a piece of paper to absorb any extra oil.
Reduce the temperature and add the tomato, ginger/garlic paste, and all the whole spices (cardamon, cloves, cinnamon, cumin seeds) and fry until they are mushy.
Add salt, sugar, and the rest of the spices and give it a stir. Then add the Chicken, and give the curry a good stir. Put a lid on it and cook for a few minutes.
In the meantime, combine yogurt, fried onions, and cashews in a puree.
Mix everything together after adding the purée to the chicken. Cover and cook for a few minutes afterwards.
Stir in the milk, and cover the pan, and simmer for another 10 minutes, or until oil begins to float to the surface. Add a little more milk if you'd like more gravy and serve!