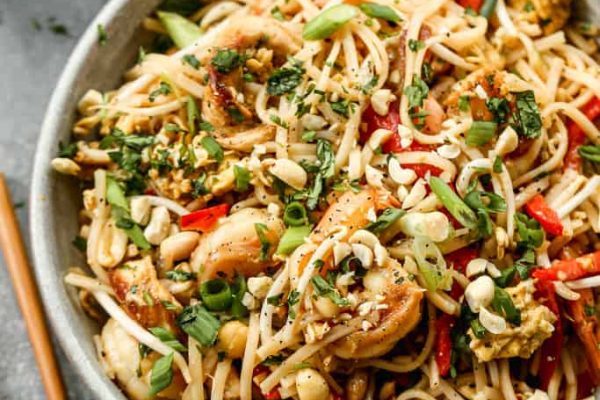 INGREDIENTS
125g Phad Thai Dried Rice sticks
1 ½ tablespoons of tamarind puree
3 tablespoons of brown sugar
1 ½ tablespoons of Oyster Sauce
2 tablespoons of fish sauce
150g of Crysbro hicken Breast
2-3 tablespoons of Vegetable oil
2 garlic cloves
2 eggs, slightly whisked
½ onion
½ cup of firm tofu
1 ½ cups of bean sprouts
¼ cup finely chopped peanuts
¼ cup garlic cut into small pieces
DIRECTIONS
Place noodles in a large bowl, pour over plenty of boiling water. Soak for 5 minutes, then drain in a colander and quickly rinse under cold water. Never let them idle for longer than 5 to 10 minutes.

Toss the sauce in a small bowl.

In a sizable nonstick pan, heat 2 tablespoons of oil over high heat. Cook for 30 seconds after adding the garlic and onion.

Cook the chicken for 1 1/2 minutes, or until mostly done.

Pour the egg into the other side of the pan after pushing to one side. Using the wooden spoon, scramble (if the pan is too dry, add a little extra oil), then stir in the chicken.

Add noodles, tofu, and bean sprouts before the sauce.

Till the noodles have absorbed the sauce, gently toss for about 1 1/2 minutes.

Add half of the peanuts and the garlic chives (pieces). Quickly stir, then remove from heat.

Serve immediately with a sprinkle of remaining peanuts, lime wedges, a handful of cilantro, and some red pepper flakes on the side.