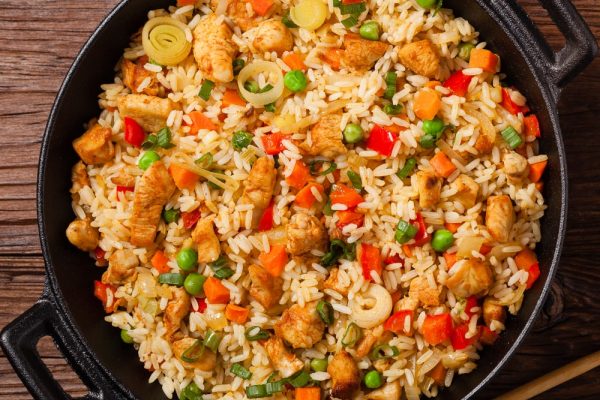 INGREDIENTS
2 tbsp. extra-virgin olive oil
Salt to taste
Freshly ground black pepper
1 medium onion, chopped
2 carrots, peeled and diced
3 cloves garlic, minced
1 tbsp. freshly minced ginger
4 c. cooked white rice (preferably leftover)
3 large eggs, beaten
3 Crysbro chicken breasts (about 1 1/2 lb.)
2 green onions, thinly sliced
3 tbsp. low-sodium soy sauce
3/4 c. frozen peas
2 tbsp. sesame oil, divided
DIRECTIONS
Heat Olive oil in a skillet over medium heat. Chicken should be salted and peppered on both sides before being added to a skillet and cooked for 8 minutes per side, or until browned and no longer pink. Cut into bite-sized pieces after removing from skillet and allowing to rest for five minutes.
Heat 1 tablespoon sesame oil in the same skillet. 5 minutes later, add the onion and carrots, and simmer until tender. Cook the garlic and ginger for a further minute, or until fragrant. Then add the Rice and peas and heat them through for 2 minutes.
Add the final tablespoon of sesame oil to the other side of the skillet after pushing the rice to one side. Once nearly cooked, add the egg and toss. Finally, mix the eggs into the rice. Stir in the chicken again to the skillet along with the soy sauce and green onions.
Add rice to a plate and serve Hot!