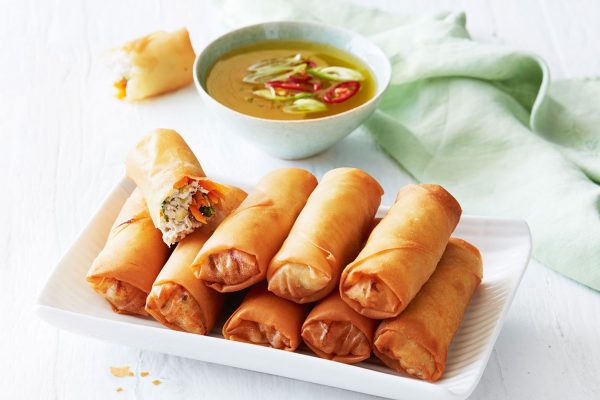 INGREDIENTS
1tbsp rice wine or white wine
500gms – 1 lb. ground chicken
1pinch black pepper freshly ground
1tsp cornstarch
1tsp fresh ginger grated
1stalk green onion chopped
2carrots shredded
1/4cup water
2tbsp oyster sauce
1tbsp cornstarch
50spring roll wrappers defrosted
Vegetable oilfor deep frying
1tbsp soy sauce
2cloves garlic finely minced
1/2head of small cabbage shredded
2tbsp vegetable oil divided
DIRECTIONS
Combine the soy sauce, wine, pepper, and cornstarch in a sizable bowl. Stir in the chicken mince after adding it. Give it 10 minutes to marinate.

Over a high flame, warm a wok. Add 1 tablespoon of the vegetable oil after it is heated. The ground chicken should be stir-fried until browned, then removed and placed aside.

Turn the heat to medium after cleaning the wok. Add the remaining vegetable oil once it's warmed up. The green onion, garlic, and ginger are then added, and they are cooked for 30 seconds until they become golden.

Add the cabbage and carrots. Turn the heat to medium-high and stir thoroughly. The vegetables should be stir-fried for two minutes, or until the carrots are tender.

Stir thoroughly after adding the cooked chicken and oyster sauce to the wok.

To cool, spread the mixture out on a baking sheet. Make sure to raise one end of the baking sheet so that any moisture will collect on the opposite side. Discard the liquid once the mixture has cooled.

Whisk cornstarch and water together in a small bowl (this will help you seal the spring rolls). To keep the spring roll wrappers from drying out, open the container containing them and place them under a damp towel.

Place the wrapper like a diamond on a spot that is clean and dry before stuffing the spring rolls. One tablespoon of filler should be placed close to the bottom corner.

Roll tightly without leaving any air pockets after folding the corner over. Roll tightly after folding the left side over, then the opposite side.

Close it up after applying a thin layer of cornstarch slurry to the edge.

To protect them from drying out, place them seam side down and keep them covered with cling film.

They should be deep-fried at 175°C or 350°F, flipping occasionally, until they are evenly browned. It should just take two or three minutes. To get rid of the extra oil, place them on a plate covered with kitchen paper. Serve hot.