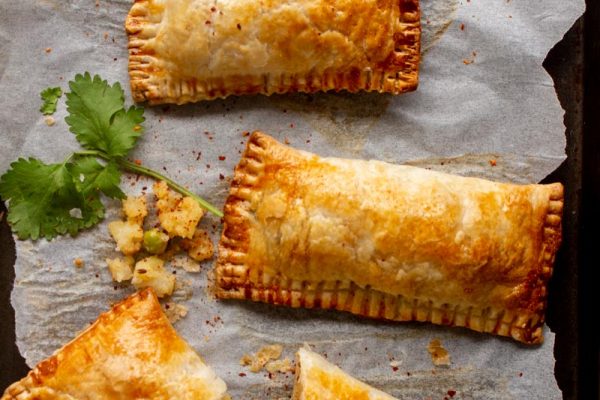 INGREDIENTS
3 cups of refined flour
1 tsp of salt
1 cup iced water
2 cups of unsalted butter
Egg yolk mixed with 2 tablespoons of milk
1 cup of chopped onion
1 kg of vegetable finely chopped and cooked
1 tsp garam masala
1 tsp chillie powder
1 tsp Kali Mirch (Black pepper)
1 tsp Dhania powder
1tsp Aamchoor
DIRECTIONS
Add the refined flour, 1 cup of butter and salt and start mixing it to form the dough. Then add iced water time to time and mix well until all the crumbs are sticked to the dough.
Then cover it with plastic wrap and refrigerate for 60 minutes
Then get a 6-inch tray and apply butter on it and spread the dough
Cut the dough into equal squares while it's in the tray and refrigerate for 15 minutes
Then in a pan heat up some butter and add the onions and once its well sautéed add the garam masala, the vegetables, the kali mirch, chillie powder, dhania powder, aamchoor, salt to taste and mix well and stir fry
Place the filling in each square of the dough and seal the edges with iced water or egg yolk.
Brush the patties with egg yolk
Bake in the Oven at 200C for 15- 20 minutes and serve!