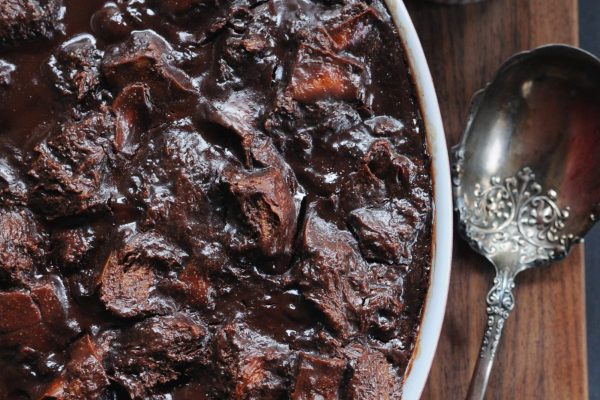 INGREDIENTS
5 cups of bread cubes (Challah bread would be ideal)
½ cup sugar
¼ cup unsweetened cocoa powder
1 teaspoon ground cinnamon
½ teaspoon salt
1 cup whole milk
1 cup heavy cream
1 tablespoon unsalted butter
¾ cup semi-sweet chocolate chips
1 teaspoon pure vanilla extract
2 large eggs
¼ cup milk or semi-sweet chocolate chips (for the topping)
¼ cup heavy cream (for the topping)
DIRECTIONS
In a large bowl add and whisk the eggs, cocoa powder, cinnamon, heavy cream, sugar, salt, whole milk and vanilla together.
Add in the bread cubes and chocolate chips and allow the mixture to sit for around 30 minutes so that the bread can absorb the liquid mixture.
Heat the oven to 350 degrees F.
Get a medium sized baking dish/tray and butter the dish. Add a baking paper and pour the mixture including all the bread cubes and any unabsorbed liquid and spread evenly and bake in the pre-heated oven for 30-40 minutes.
For the topping heat the chocolate chips in the microwave and stir in the heavy cream until smooth.
Once the pudding is baked pour the topping over it and serve hot or at room temperature.