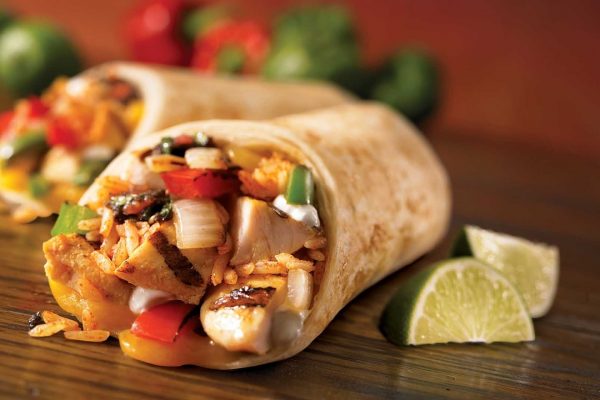 INGREDIENTS
4 skinless, boneless Crysbro chicken thighs
4 tablespoons Greek yoghurt
½ a tablespoon ground cumin
Olive oil
200 g leftover white or brown rice , chilled
1 lime
2 cloves of garlic
1 bunch of fresh coriander
4 ripe tomatoes
4 spring onions
1 little gem lettuce
4 large flour tortillas
80 g mature Cheddar cheese
1 x 400 g tin of pinto or black beans
1 tablespoon sweet smoked paprika
DIRECTIONS
01) Preheat a pan over a high heat and meanwhile place the chicken thighs between greaseproof paper and bash them. Then add them to a bowl and add paprika, cumin, 2-4 teaspoons of oil, salt and pepper and season well.
02) After around 5-6 minutes, mix the chicken further with the mixture and place in the hot pan and cook for around 10 minutes until cooked through and leave aside
03) Bring a frying pan to a medium heat and add 1 tablespoon of oil. Once the oil is heated add the garlic and coriander stalks and fry them. Then add the beans and fry for a few more minutes. Add the rice and cook for 5-6 minutes. Add the lime zest and roughly chopped coriander and cook for 1-2 minutes and remove from the heat
04) Take a separate bowl and add the sliced tomatoes and onions along with some lime juice and add any remaining coriander leaves and mix well.
05) Next Shred the lettuce and the cooled chicken.
06) Preheat the initial pan again and add a tortilla and cook for 1 minute to soften, and place on a board.
07) To the tortilla add a spoonful of rice and bean mixture. Then top it with the tomato mixture, some lettuce and chicken and grate some cheese over it followed by a spoonful of Greek yoghurt. Repeat the steps.
08) Wrap the burritos and tuck in and serve!