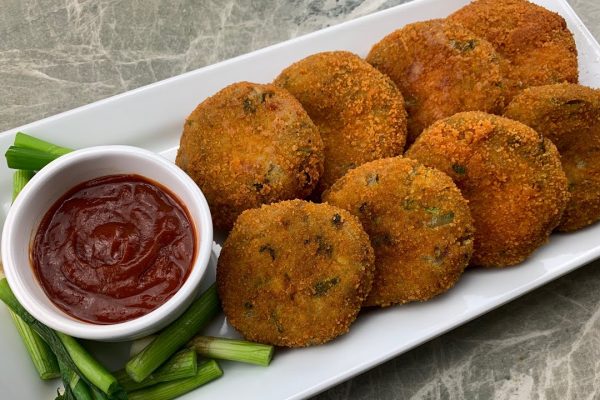 INGREDIENTS
600 g Crysbro chicken
2 dash powdered black pepper
salt as required
2 tablespoon refined oil
Oil as required
1/2 teaspoon spice oregano
70 gm breadcrumbs
2 tablespoon lemon juice
1/2 cup all-purpose flour
2 beaten eggs
3 cup mashed potato
1/2 cup finely chopped capsicum ( green pepper)
1/2 tablespoon finely chopped green chilli
1/2 tablespoon grated ginger
1 tablespoon cumin powder
1/2 cup finely chopped coriander leaves
1/2 cup finely chopped carrot
1/2 cup finely chopped onion
1/2 tablespoon finely chopped garlic
1/2 tablespoon garam masala powder
1 1/2 teaspoon cumin seeds
DIRECTIONS
01) First wash the chicken and boil it and shred it. Then, take a pan and heat oil in it over medium flame. Once the oil is sufficiently hot, add cumin seeds.
02) Add chopped garlic and grated ginger once the cumin seeds start to plutter. Fry until lightly golden. Reduce the flame. Once the raw flavour of garlic-ginger is gone, add chopped onions and sauté until soft and until the onions turn slightly translucent in colour. Then add finely chopped carrot and capsicum and saute for few minutes over a moderate-high flame. Remove from the stove and transfer it to a bowl and let it cool
03) Add boiled potatoes, shredded chicken, the cooked vegetables, green chillies, garam masala powder, oregano, cumin powder, bread crumbs, coriander leaves to a large bowl and mix well. Divide the mixture into equal sized balls and shape it into a cutlet
04) Coat them in all-purpose flour. Then dip the cutlets in the beaten egg mixture and coat it with bread crumbs. Again dip the cutlet in the egg and then coat it with bread crumbs. The double coating will give a crunchy texture to the cutlets.
05) Place the cutlets on the tray covered with butter paper and freeze for 3-4 hours
06) Heat oil in a pan over medium flame and deep fry the cutlets until golden brown and serve them hot with ketchup, or dip of your choice. Enjoy!