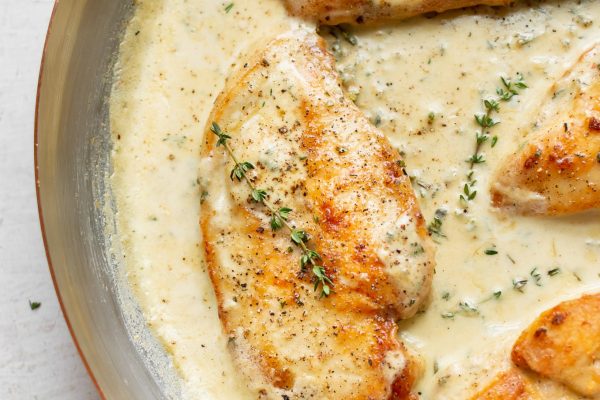 INGREDIENTS
4 Crysbro Chicken Breasts (pounded ½ inch thin)
2 teaspoon of parsley chopped
1 teaspoon each of dried thyme and rosemary
2 teaspoons each of onion and garlic powder
Salt and pepper to taste
4 cloves of minced garlic
1 cup of milk
1 teaspoon of cornstarch mixed with 1 tablespoon water, until smooth
3-4 teaspoons of olive oil
DIRECTIONS
01) Coat the chicken breasts with onion and garlic powder, together with the herbs and season with salt and pepper
02) Heat one tablespoon of oil in a skillet over medium high heat and cook the chicken breasts well for 3-5 minutes each side and lay aside. (the time may depend on the thickness of the chicken)
03) To the same pan add another 2 teaspoons of oil and cook the garlic, parsley, thyme and rosemary for about 1 minute until fragrant.
04) Stir in milk and season with salt and pepper to taste
05) Bring to a boil and add the cornstarch mixture and stir well, to gain a thick creamy mixture. Reduce heat and simmer for another additional minute for the sauce to thicken more.
06) Add the chicken to the skillet and add the remaining herbs. Mix gently and serve hot.