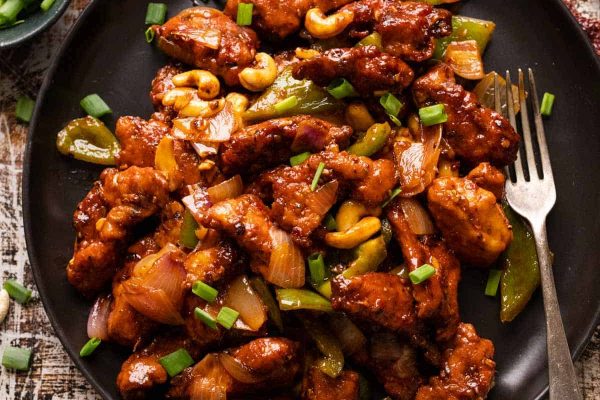 INGREDIENTS
3 boneless Crysbro Chicken breasts
½ cup fried cashew nuts
1 teaspoon of chopped ginger
1 tablespoon of chopped garlic
1 teaspoon of red chillie powder
1 ½ teaspoon of garam masala
Chicken stock ½ cup
Crushed black peppercorns to taste
Salt to taste
1 tablespoon of Ginger garlic paste
1 tablespoon of oil and more to deep fry
1 tablespoon of cornflour
1 tablespoon of refined flour
Red and yellow bell pepper 1 each 
2 medium tomatoes
1-2 chopped green chillies
½ cup chopped spring onions
1 cup of tomato sauce
1 teaspoon soy sauce
1 teaspoon vinegar
½ cup of spring onion greens
DIRECTIONS
01) Slice the chicken breasts and add it to a bowl. Then add salt, ½ teaspoon chillie powder, garam masala, crushed peppercorns and the ginger garlic paste and mix the chicken well and set aside to marinate. (Leave for 30 minutes)
02) Then add corn flour and refined flour together with some chicken stock to the chicken and mix it well.
03) Heat oil in a pan and deep fry the chicken till golden and crispy and drain the oil.
04) Slice the tomatoes and the bell peppers into triangle shapes or big cubes
05) Heat one table spoon of oil in a non-stick pan. Add ginger and cook for 30 seconds and then add green chillies and mix and saute for 10-15 seconds. Add soy sauce, vinegar and mix well.
06) Finally add the garlic, spring onions and the spring onion greens together with tomato and bell pepper cubes and cook till golden.
07) Next add the remaining chillie powder and garam masala powder together with the tomato sauce and mix well and toss.
08) Add the deep fried chicken and fried cashew nuts to the mixture and toss well and serve hot.