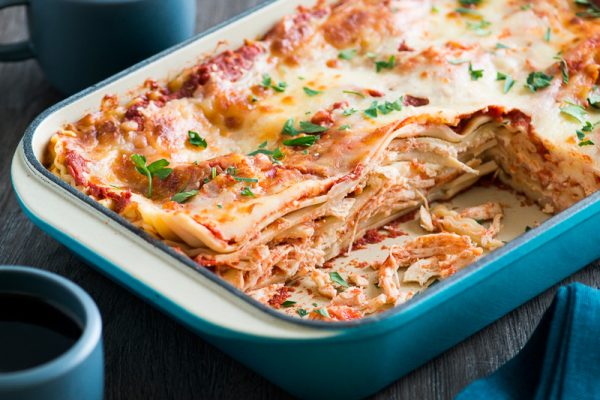 INGREDIENTS
3 skinless, boneless Crysbro chicken breast halves
6 Uncooked lasagna sheets
1 cube chicken bouillon
¼ cup hot water
1 (8 ounces) package cream cheese
1 (26 ounces) jar spaghetti sauce
 DIRECTIONS
Bring a large pot of lightly salted water to a boil. Cook lasagna sheets for 8 to 10 minutes. Drain, rinse with cold water, and set aside.
Meanwhile, place the chicken in a saucepan with enough water to cover, and bring to a boil. Cook for 20 minutes, or until no longer pink and juices run clear. Remove from saucepan, and shred the chicken.
Preheat oven to 350 degrees F (175 degrees C). Dissolve the bouillon cube in hot water. In a large bowl, mix the chicken with the bouillon, cream cheese, and 1 cup mozzarella cheese.
Spread 1/3 of spaghetti sauce in the bottom of a 9×13 inch baking dish. Cover it with the chicken mixture, and top with 3 lasagna sheets and repeat the process. Top with remaining sauce, and sprinkle with remaining mozzarella cheese.
Bake for 45 minutes in the preheated oven.
Garnish with some parsley (optional) and serve.