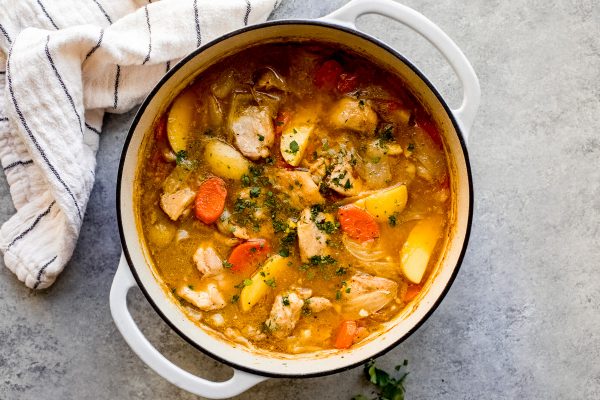 INGREDIENTS
1 onion
3 ribs of celery
4 garlic cloves
1/2 lbs. carrots 
75lbs. boneless, skinless Crysbro chicken thighs 
4Tbsp all-purpose flour
2Tbsp of butter 
1 Tbsp of olive oil
5lbs. potatoes
1tsp dried parsley 
1/2tsp dried thyme 
1/2tsp dried rosemary 
1/2tsp dried sage 
1/4tsp freshly cracked black pepper 
2 cups of chicken broth 
2 cups of vegetable broth
1Tbsp chopped fresh parsley 
DIRECTIONS
First dice the onion and celery, and mince the garlic, slice the carrots, and cut the potatoes in half.
Cut the chicken thighs into 1-inch equal pieces. Sprinkle 2 Tbsp of the flour over the chicken and toss until the chicken is evenly coated.
Add the butter and olive oil to a large pot and bring it to a medium heat until they are hot and sizzling.
Add the flour-coated chicken to the pot with the butter and oil and allow the chicken to brown on all sides (avoid stirring until browned on the bottom). When the chicken is browned and there is a satisfying brown layer of flour at the bottom of the pot, remove the chicken to a clean bowl.
Add the onion, celery, garlic, and carrots to the pot and continue to sauté until the onions are soft. Use the moisture released by the vegetables to dissolve and scrape the browned bits off the bottom of the pot.
Once the vegetables are slightly softened, add the remaining 2 Tbsp flour to the pot and continue to sauté over medium for about 2-3 minutes.
Add the browned chicken to the pot. Also add the potatoes, parsley, thyme, rosemary, sage, pepper, chicken broth, and vegetable broth and Stir to combine and dissolve any flour.
Place a lid on the pot and bring it to a boil, and remove the lid and turn the heat down to medium-low. Allow the stew to simmer over medium-low, without a lid and stirring occasionally, for about 25-30 minutes or until the potatoes are tender and the broth has thickened.
Add a tablespoon of fresh chopped parsley if desired, and serve.