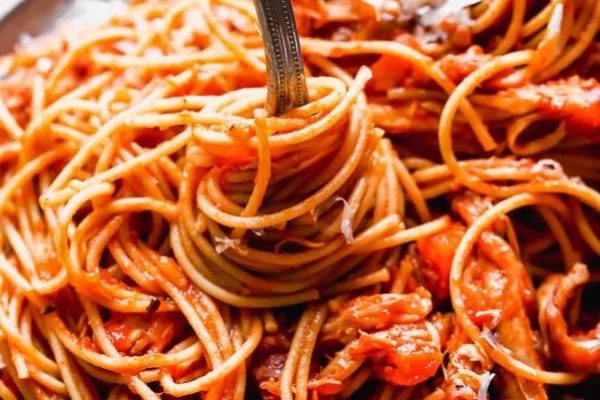 INGREDIENTS
2 tsp olive oil

2 boneless, skinless Crysbro chicken thighs

1/2 cup diced onion

1 cup diced carrot

1 cup diced celery

2 large garlic cloves

2 tsp of salt

1/2 cup red wine

1 tbsp. tomato paste

1/4 cup water

1 tsp sugar

1 tsp dried basil

26 oz strained tomatoes or tomato puree

Parmesan cheese rind

3/4 lb whole-wheat spaghetti
DIRECTIONS
Season chicken thighs with salt and pepper on both sides. Heat some oil in a pan and once it's heated add the chicken and sear until it's golden brown. Then remove them from the pan and set aside.

Then add onions, carrots, celery, garlic, and 1/2 teaspoon salt to the pan and cook them over a medium heat until slightly soft and fragrant, for about 3 minutes.

Pour in red wine and Stir in tomato paste and strained tomatoes, water, and 1/2 teaspoon salt, 1 tsp sugar, basil, and parmesan cheese rind.

Reduce the heat and add the chicken and cover with a lid. Continue to cook for another 25 minutes in low flame.

While the sauce cooks, bring a large pot of water to a rolling boil and season it with salt.

Once the sauce has simmered for 25 minutes, drop the pasta in the water and give it a stir.

While the pasta cooks, remove the chicken from the pan and shred them and add them back.

Once the pasta is cooked, transfer the pasta to the sauce and add 1 cup of pasta water to the pasta and sauce. Remove the parmesan cheese rind and toss everything together over a low heat. Season with salt and pepper.

Serve with shredded or grated parmesan cheese.