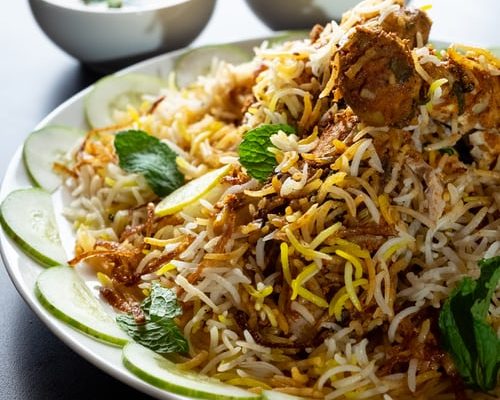 INGREDIENTS
4 chicken breasts

2 tbsp sunflower oil

1 large onion, chopped

1 lemon (juice only)

2 tsp garam masala

1 tsp chili powder

1 tsp salt

300g basmati rice

1 garlic clove, crushed

2.5cm piece fresh ginger, grated

850ml hot chicken stock

3 tbsp chopped fresh coriander
Directions
Heat the oil in a large saucepan over, low heat. Add the onion, cover it and cook for 10 minutes until softened.
Cut the chicken into bite-size pieces, tip into a bowl, and add the lemon juice, garam masala, chili powder and salt. Stir well.

Rinse the rice several times in cold water. Add the garlic and ginger to the cooked onion and cook for 2 minutes, then add the chicken pieces and cook for a further 2 minutes, stirring constantly.
Add the rice and hot stock to the pan, stir well then bring to the boil. Cover with a tight-fitting lid, reduce the heat slightly and cook for 5 minutes. Turn off the heat and leave the pan for 10 minutes to allow the rice to finish cooking in the steam. Do not remove the lid. Stir through the coriander and serve immediately.