Garlic Shrimp Pasta! This quick, easy, and healthy shrimp recipe tastes like the sort of special date-night dinner I crave on a Friday, all for the level of effort I'm willing to put in on a Thursday. Read: VERY LITTLE EFFORT.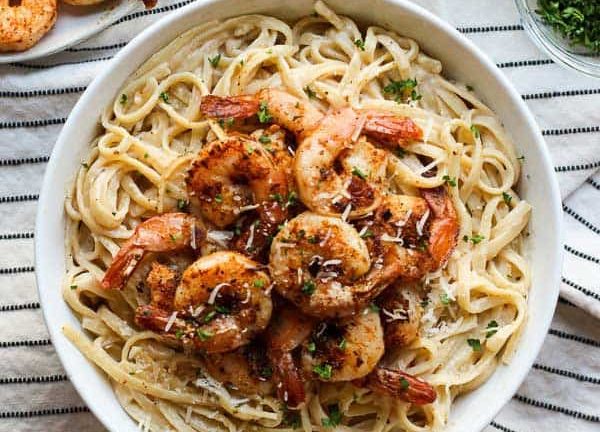 The Ingredients
Linguine. Whole-wheat pasta or similar thin pasta noodles are the best for this dish. The whole-wheat noodles help make this recipe healthier, as they contain more fiber, vitamins, and minerals than white pasta.
Shrimp. Fresh or frozen works here. I can hear the seafood purists on my tail now. Speaking of tails, you can buy frozen raw shrimp with the tails (and veins and shells) already removed and save yourself some much-deserved additional time. Frozen shrimp thaw quickly and cook in less than four minutes. FOUR. I can't even check Instagram that quickly.

Another vote in favor of frozen: Unless you live near the ocean, the shrimp you buy "fresh" at the grocery usually arrived frozen, then are thawed prior to being sold. If you truly want to spring for fresh shrimp, it's worth asking to make sure you are receiving a better quality product.

Vegetables. I used a mixture of shallots and mixed vegetables (again, fresh or frozen vegetables will work). When hearty winter potatoes and I need to go on a break, frozen vegetables are my saving grace. They're frozen shortly after being picked, so they maintain their nutritional value. They're never out of season, and best of all: I don't have to chop them.

You can use fresh vegetables too, but frozen are a true time and money savings, especially in the winter. Don't be afraid to try it. You can also feel free to swap in other vegetables you enjoy. For example, I love this Spicy Shrimp Pasta with broccoli and bell peppers.

Garlic. The star of this dish. The garlic perfectly complements the lemon and white wine sauce.

If you're a fan of this shrimp + garlic combo

Red Pepper Flakes. To keep everyone awake. I add a healthy pinch; feel free to add more or less to taste.
White Wine. For flavor and for drinking while you cook (I call that a win!). I recommend using a dry white wine like Sauvignon Blanc. If you prefer to make this dish wine-free, you can substitute low-sodium chicken broth.
Lemon Juice + Zest. Adds freshness, brightness, and vibrance to this delish lemon garlic shrimp pasta.
Toppings. Freshly grated Parmesan and fresh parsley are my favorites. 
How to make ?
Cook the pasta until al dente. Drain the water, reserving some for later, and then toss the noodles with a bit of oil to keep them from sticking.

Rinse and dry the shrimp. Cook the shallot in a large skillet until fragrant. Add the garlic and then the shrimp, topping with the spices. When shrimp is cooked through, remove it to a plate. How long should you cook shrimp? It will likely take about 3 to 4 minutes to cook.

Cook the vegetables and remaining spices in the skillet until hot. Add the white wine and shrimp into the skillet. Stir in the lemon zest and juice.

Add the pasta to the skillet and toss. Serve warm with Parmesan and parsley. ENJOY!